Bill Dunn, October 2017
This year my wife and I took our new 2016 Tucson on a trip from Regina to St. John's Newfoundland. We toured the Atlantic Provinces and we needed an oil change and tire rotation along the way. When you are on the move it is hard to tell when exactly you will arrive at your destination and then there is a chance that there will be no openings. I contacted Fredericton Hyundai and the Appointment Coordinator. Sandy Allan, hearing we were from Regina, assured us that she could fit us into the schedule. We had the tires rotated and the oil changed for just $89.95.
On our way back to Regina we needed an oil change so Sandy got us another appointment. This one was only $49.95 (I wish we could get our service done here). I just wanted to have her recognized for her great service. She was very friendly, polite and accommodating. We are very pleased with the service she provided. - Bill
Lyndsay Simpson, August 2017
My husband and I bought a car from Sam. We had such a great experience with her that my brother and sister-in-law and parents also bought vehicles from her. Have never dealt with another sales person like her. Sam is very kind, knowledgeable, non pushy and honest!! When we are ready to replace our other car we will definitely be in to see her again, until then I will continue to recommend her to everyone I know looking for a vehicle! Thanks Sam for such a great experience! - Lyndsay
Tattersall family, July 2017
This is our second vehicle from Fredericton Hyundai in 12 months. We left the dealership even happier than the first time. Can't wait to buy again from here!" - Adam
Lisa Saunders, August 2017
Thank you so much for all your help everyone was beyond amazing to me and I truly love my new car
[I] will be a return customer for sure " - Lisa
Paul and Sherri McDonald, July 2017
You guys absolutely Rock!! After spending days trying to persuade my lovely wife to take the plunge and contact you in regards to trading in our vehicle she finally did. She was terrified of the process... pay stubs, application forms and bank statements were all things that took time away from her busy days, time which was very hard to find lately.
Well folks if you don't believe in magic then I must urge you to pick up your phone and call the Fredericton Hyundai Finance Wizards like my wife did. After a very short conversation a spell was cast and just like that a brand new 2017 Elantra LE will be sitting in our driveway tomorrow evening! Do yourself a favor... Feel The Magic... Call The Finance Wizards!" - Paul
Josh and Danielle White, August 2017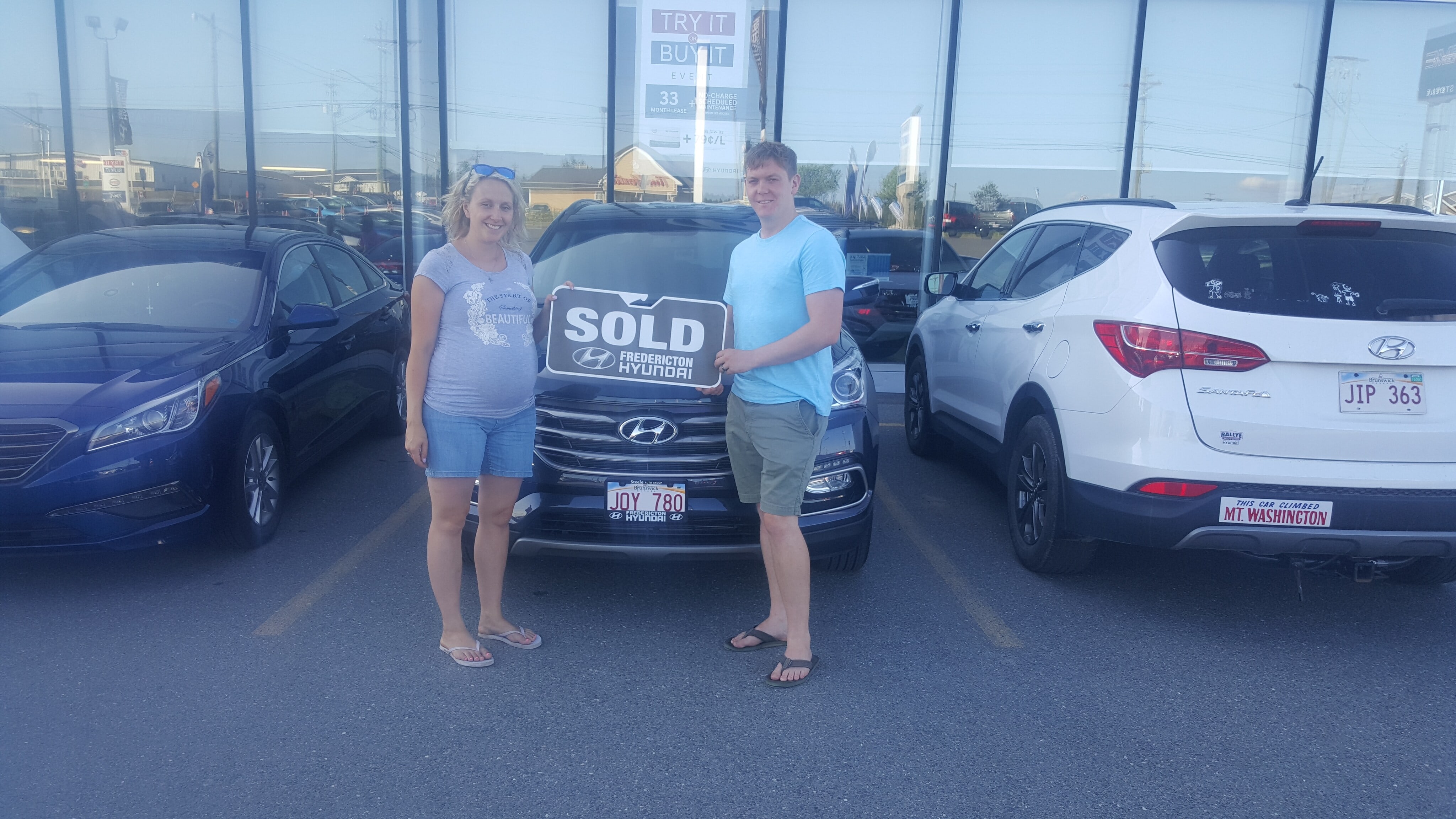 My husband and I went in to just check out the new Sante Fe and do some pricing. We were immediately greeted by Wes who showed us the Sante Fe. He was BEYOND personable, not once did he try to sell us on a luxury model or anything more then what we had asked for. We fell in love immediately with the Sante Fe (and Wes too haha) We decided that this was a good choice for us and we're ready to talk numbers. This can be very stressful but thankfully Wes was not a salesman trying to make a sale or hit his quota but he was a friend helping us find the best deal. In the end we made a PERFECT deal and are now PROUD OWNERS OF A BEAUTIFUL 2017 SANTE FE!! We are so happy with our experience at Fredericton Hyundai and look forward to visiting them again soon. Thank you for making our purchase a positive time with NO STRESS." - Danielle